James Bickford (age 15) won the NASCAR Whelen All American Series Late Model championship at All American Speedway in his rookie year in 2013. He has been chosen to race the 2014 season in the NASCAR K&N Pro Series West.
Driving for Bob Bruncati Racing in the No. 6 Sunrise Ford, he will replace Derek Thorn, who is the reigning K&N West champion.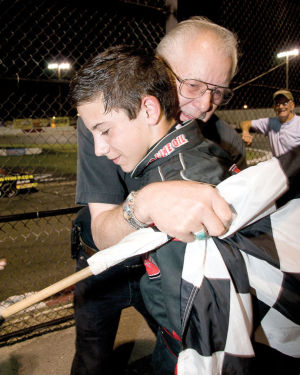 Sponsor James Bickford after the driver wins the NASCAR
Whelen All American Series Late Model Championship
(Sept. 14, 2013. Jeannie Broussal Photo)
In 2013, Bickford, whose cousin is NASCAR Sprint Cup Series champion Jeff Gordon, made the transition to racing Late Models in the NASCAR Whelen All American Series at All American Speedway in Roseville. After only four starts, he racked up his first Late Model win on May 11, 2013.
Driving the No. 25 Chevrolet sponsored by Buffship.com, Red Line Oil, Eibach Springs, Catchyoureye.com, Cooke Orthotics, Alpine Stars, and Piner's Welding Supply, Bickford is the youngest driver in the 58-year history of All American Speedway to win a Late Model Series race and championship.
Bickford has been adamant about racing in the K&N Series. He had hoped to race a couple of races last year. He had a car and everything but a motor. Last fall, Bob Bruncati reached out to Bickford about driving one of his K&N West Series cars.
On Dec. 5, Bickford went to Toyota Speedway at Irwindale to test for Bruncati.
"The test at Irwindale was phenomenal," Bickford said. "I didn't know anything about the track except for racing it on a simulator on my computer. I went out and on the first lap I thought it was pretty easy. I went full throttle. It was a lot different than racing my Late Model. At the end I ran a really fast lap (18.41), and I came close to beating the K&N Series track record at the track."