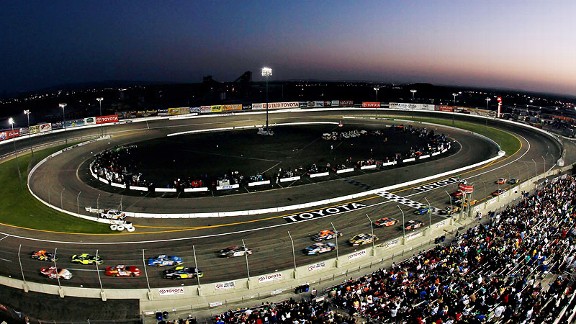 Photo by Jeff Gross/Getty Images
The now-bankrupt L.A.-area track was proving
ground for many in Sprint Cup

LOS ANGELES -- Before Kurt Busch won his first Cup championship, he won a NASCAR Southwest Tour race at Irwindale Speedway in 1999.

He isn't the only NASCAR driver who honed his skills racing at the shuttered half-mile oval in the San Gabriel Valley.

Irwindale Speedway had star power. It attracted some of the top drivers in NASCAR, even after they were established in the Sprint Cup or Nationwide Series.

The track management at Irwindale cancelled the 2012 racing season and filed for bankruptcy in February, leaving Los Angeles County without a NASCAR-sanctioned race track. There is no short track operating for aspiring NASCAR drivers in the greater Los Angeles area. The nearest tracks are in Las Vegas, Lake Havasu, Ariz., Stockton, Calif. and Roseville near Sacramento.

The track that once provided drivers a springboard up the NASCAR ladder sits idle waiting for someone or some group to jump-start it back to roaring life.

Joey Logano, David Gilliland, Kasey Kahne, Casey Mears, Jason Bowles and Travis Pastrana used Irwindale as a pit stop on the road to bigger and better NASCAR dreams. Almost all of them say they wouldn't have successful NASCAR careers without Irwindale.



Logano, who drives for Joe Gibbs Racing in the Sprint Cup Series and Nationwide Series, won two NASCAR All-Star Showdown races at Irwindale.

Gilliland, a driver from Riverside who races for Front Row Motorsports in the Sprint Cup Series, won a Showdown race, a Southwest Tour race, a West Series race and a number of late model races at Irwindale.

Kahne and Mears returned to their open-wheel racing roots by competing in the USAC Turkey Night Grand Prix at the track on Thanksgiving. Tony Stewart brought his USAC teams and drivers to Turkey Night on an annual basis.

Some of the drivers racing at Auto Club Speedway in Fontana this weekend remember racing at Irwindale early in their careers.

Logano was already an established Sprint Cup Series driver when he raced in his third All-Star Showdown at Irwindale. He won two Showdown races, having qualified as a driver in the K&N Pro Series East. He says he should have been a three-time winner in the Showdown.

"Really, they've all been memorable for one reason or another," said Logano, who's driving the No. 20 Dollar General Toyota for Joe Gibbs Racing in the Auto Club 400 in Fontana. "I mean, winning my first All-Star Showdown was a huge accomplishment and capped off what was a huge season for me after winning the [East Series] championship and rookie of the year, and led into my debut into the Nationwide Series. That is something I won't forget, either."

Logano returned to Irwindale in 2009 and won his second Showdown race. He was actually the first driver to cross the finish line in the 2008 All-Star Showdown, but was penalized for rough driving on the last lap and was denied his third Showdown win.

"It's a tough race to win, and to be able to say I won it twice was awesome," Logano said. "And 2008 is memorable for a lot of reasons. Really, I still believe I should be a three-time winner of the race, but that's not what the history books will say. That race was memorable because I was in a car that a lot of people didn't think could win the race, and we were there and had a fast car. We crossed the finish line first but don't have the trophy to show for it. There really isn't much else you can say about it. I won the race three times but only have two trophies."

Gilliland won his first stock car race on pavement at Irwindale. He started his racing career at Perris Auto Speedway on dirt, but said winning a race at Irwindale gave him the confidence to pursue a career in NASCAR.

"I always wanted to move up and race in NASCAR," Gilliland said. "My first asphalt win came at Irwindale. It was a huge boost to me in every series."

He won his first late-model race and his first NASCAR Southwest Tour race at Irwindale. He was the crew chief for his dad, Butch Gilliland, who raced in the NASCAR West Series and at Irwindale. Butch Gilliland still holds the qualifying record at Irwindale in the West Series.

"I got some really fond memories of Irwindale," David Gilliland said. "It was really big. It helped me propel my career. Without Irwindale, I wouldn't be where I am today."

Bowles, a driver from Ontario, wound up winning the last All-Star Showdown race at the track in 2011. He won three NASCAR West Series races in a row, all from the pole, at Irwindale in 2008 and 2009. But before that, Irwindale was not a place Bowles liked to visit.

"Before 2008, I hated it," said Bowles, driver of the No. 81 Toyota for McDonald Motorsports in the Nationwide Series. "But in 2008, it got really nice. I have no complaints from there on out."

His winning run in the Showdown didn't start out too promising, either. He wrecked his team's primary car in testing and had to race a backup car.

"The biggest thing I remember about the race is winning," Bowles said. "It's always pretty action-packed. I had been there a few times and I knew what to expect."

Even with a Showdown win and a West Series championship, Bowles said he struggled to find a permanent ride for two years. But winning the Showdown race at Irwindale gave him some prominence.

"After I won the Showdown, a lot of people took notice," Bowles said. "But just like anything in racing, it's all about timing nowadays. I spent the last two years walking around with no ride. It helped keep my name out there, keep my name in everybody's head. It obviously didn't hurt. It worked out that I was in the right place at the right time. It just kind of all worked out."

Now that the track is closed, it leaves a void for stock car drivers in Southern California and the Southwest. The track attracted drivers from Las Vegas, Arizona, New Mexico and even as far away as Texas to race in the weekly late-model series at the track.

"It wasn't only a good track for me," Gilliland said, "it was an excellent track for the West Coast."