Costa

makes its home on the sandy shores of Daytona Beach, the birthplace of stock car racing. The area is best known for its sun, sand, and one particular turn on a very unique track that all began back in the 1930s. Then, cars would race south down A1A highway and then turn north back up the hard packed sands of Daytona Beach.

Now, as fans gear up for the next speed chase under the lights at Daytona International Speedway on July 2, Costa honors racing's heritage with a new sunglass style, North Turn.

Professional stock car driver and NASCAR Sprint Series racing competitor Austin Dillon currently sports Costa's North Turn style. "Besides the fact that I love the heritage and history of North Turn's namesake, these sunglasses are my go-to shades both on and off the water," said Dillon. "When I'm not racing, I'm fishing - and these sunglasses are a key piece of gear for me."

Costa's

North Turn

is a bold metal frame with timeless styling. It features a large rectangular frame fit, comprised of quality Monel ® metal and nearly indestructible bio-based resin material sourced from the castor plant, a sustainable, hardy perennial.

The bio-based resin produces increased durability, overall sunglasses weight reduction, and the ability for the frame to hold shape from extreme heat to bitter cold temperatures, crucial for anglers out battling the elements. Incorporating a bio-based resin frame construction reduces Costa's manufacturing process emissions, and cuts the company's overall carbon footprint significantly.

North Turn is available in frame colors including palladium with shiny black temples, gunmetal with matte black temples, and rose gold with matte tortoise temples. The style also features sturdy integral hinge technology and adjustable silicone nose pads, for a superior comfort fit.

Costa's North Turn is available in gray, copper, blue mirror, green mirror and silver mirror lens colors, in Costa's patented color enhancing polarized 580™ lenses. The brand's 580 lens technology selectively filters out harsh yellow and harmful high-energy ultraviolet blue light. Filtering yellow light enhances reds, blues and greens, and produces better contrast and definition while reducing glare and eye fatigue. Absorbing high-energy blue light cuts haze, producing greater visual clarity and sharpness.

Costa's 580™ lenses, the clearest lenses on the planet, are available in either glass or impact resistant polycarbonate. North Turn is also available in customized prescription sun lenses.

The style ranges in retail price from $199 to $279, with prescription sunglass prices varying. North Turn is now available at

www.costadelmar.com

, and at authorized participating Costa retail partners.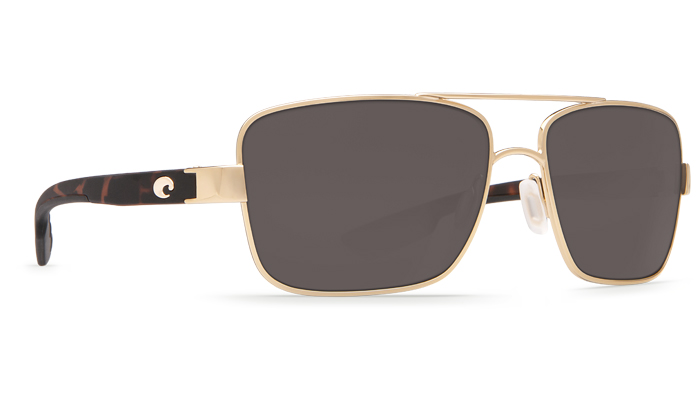 About Costa™
As the leading manufacturer of the world's clearest polarized performance sunglasses,

Costa

offers superior lens technology and unparalleled fit and durability. Still handcrafted today in Florida, Costa has created the highest quality, best performing sunglasses and prescription sunglasses (Rx) for outdoor enthusiasts since 1983.
For

Costa

, conservation is all about sustainable fishing. Many fisheries that should be vibrant and healthy are all but devoid of native fish because they have fallen victim to poor fishing practices, unregulated development, lack of watershed protection or all of the above. Costa works with partners around the world to help increase awareness and influence policy so that both the fish and fishermen of tomorrow will have healthy waters to enjoy. Costa encourages others to help in any way they can.