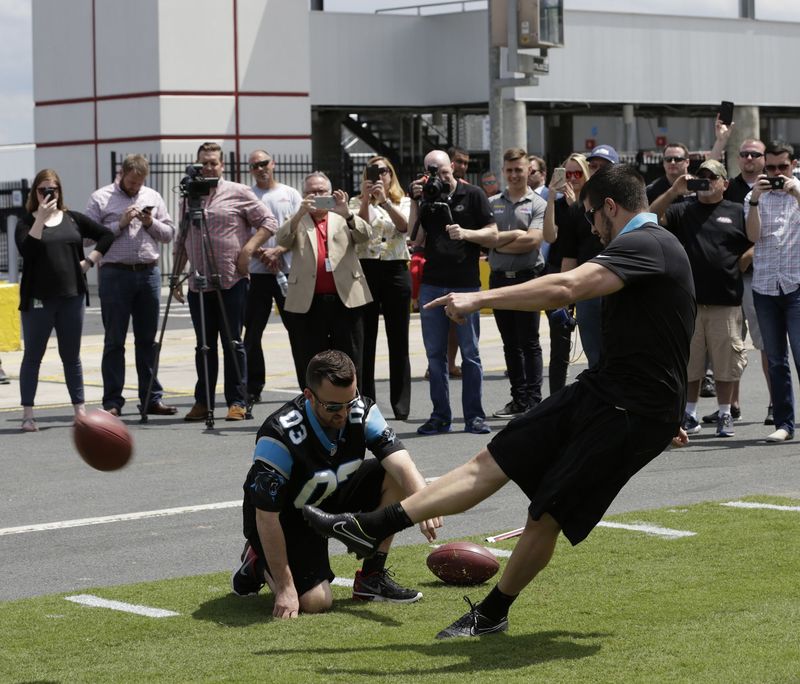 Carolina Panthers kicker Graham Gano boots a field goal on
Charlotte Motor Speedway's pit road (CMS/HHP photo)
Carolina Panthers kicker Graham Gano has booted a football through uprights in stadiums across the country, but his kickoff to the Motorsports Month of May at Charlotte Motor Speedway saw Gano convert field goals from an entirely new location: pit road.
Gano and NASCAR Sprint Cup Series driver Austin Dillon took part in a field-goal kicking exhibition, a chat with media and a full-throttle stock car ride around the iconic 1.5-mile superspeedway - a thrilling introduction to what was sure to be an unforgettable 10 Days of NASCAR Thunder at Charlotte Motor Speedway.
"I couldn't believe it," Gano said of his ridealong experience. "I've never gone that fast. I can't even find the words. I was trying to get it all on camera, but I was like, 'I need to put my hand down and just enjoy this.'"
"It was a blast," Dillon said. "I love football and I'm a huge fan of Graham and the entire Panthers team. It was fun kicking field goals with him. His position is such a mental position, because you've got to go in front of so many fans who are looking at you to make that kick. He does it so often." -