Following a national talent search, 18 multicultural and female athletes earned invitations to compete in the first-ever national NASCAR Drive For Diversity® (D4D) Crew Member Development Combine today in Concord, North Carolina.
Former college football, basketball, softball and track and field athletes will be evaluated based on a series of fitness, agility and pit crew drills at the NASCAR Research & Development Center.
The 10 top-performing participants will be invited to join the NASCAR D4D Crew Member Development Program, operated by Rev Racing, and receive expert training as tire changers, carriers and jackmen, with the goal of gaining full-time employment with NASCAR national series race teams.
"As NASCAR Drive for Diversity continues to grow and benefit from national exposure, we're seeing more and more athletes want to be involved," said Jim Cassidy, NASCAR senior vice president of racing operations. "This is a great way to introduce top competitors to NASCAR and provide the opportunity to one day shine in our sport's biggest events."
Earlier this year, NASCAR and Rev Racing hosted tryouts at six universities spanning coast to coast – from Norfolk State University to San Diego State University – as part of a revamped crew member scouting process.
Twelve men and six women hailing from 12 states and one U.S. territory are now one step closer to a career in NASCAR and will look to impress during today's four-hour skills competition.
"We are extremely excited about the continued growth and evolution of the Crew Member Development Program," said Max Siegel, CEO of Rev Racing. "Our expanded college recruitment and outreach efforts have attracted some of the most talented and promising athletes our program has seen yet."
Most D4D participants begin with no motorsports background and learn to apply athletic prowess from their primary sport to the skills required on NASCAR's pit road. Joshua Tate, an All-American football player at Clark Atlanta University, recently tried out for the Chicago Bears and is now hoping to go professional in motorsports.
Former Norfolk State point guard Brehanna Daniels could follow in the footsteps of Emily Cox, a D4D alum who now pits regularly in the NASCAR XFINITY Series and NASCAR Camping World Truck Series.
Jeremy Kimbrough, a former Washington Redskins linebacker, will attempt to join fellow NFL veteran Andre Neblett in the D4D crew member program, which has a 100 percent job placement rate for graduates. Neblett played for the Carolina Panthers and New England Patriots and was accepted to D4D as part of the program's ongoing open enrollment.
There are 35 current and former D4D crew members working in NASCAR, including 23 graduates in the sport's top series – the NASCAR Sprint Cup Series. In November, Roush Fenway Racing team members Mike Russell and Raphael Diaz became the first D4D graduates to win a national series championship when No. 60 driver Chris Buescher clinched the NASCAR XFINITY Series title.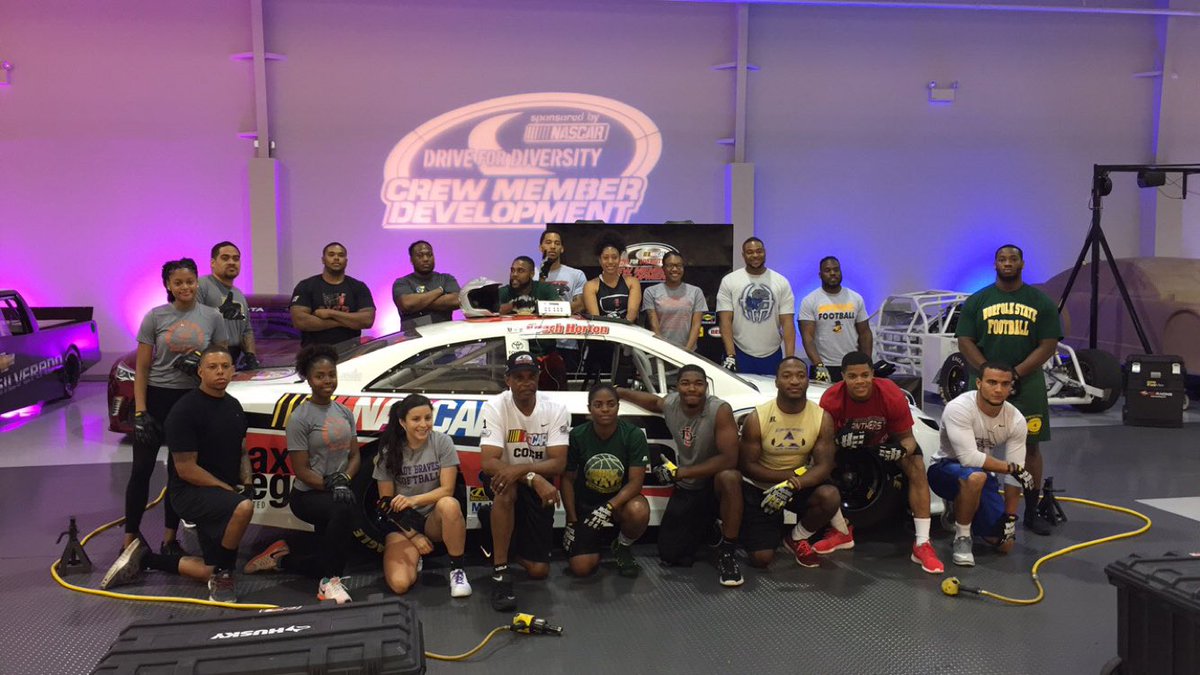 NASCAR D4D pit crew member combine participants include:
| | | | |
| --- | --- | --- | --- |
| First | Last | Hometown | Primary Sport |
| Robert | Clay | Nashville, Tenn. | Football |
| Kasuela | Cooper | Charleston, Mo. | Basketball |
| Paris | Cotman | Richmond, Va. | Track & Field |
| Brehanna | Daniels | Norfolk, Va. | Basketball |
| Mykael | Dixon | Baltimore, Md. | Track & Field |
| Branden | Dozier | Topeka, Kan. | Football |
| Kapil | Fletcher | Fort Lauderdale, Fla. | Football |
| Quinta | Funderburk | Chesapeake, Va. | Football |
| Jemond | Hazely | Corona, Calif. | Football |
| Tedarian | Johnson | Jackson, Miss. | Football |
| Jeremy | Kimbrough | Decatur, Ga. | Football |
| Corey | King | Boca Raton, Fla. | Football |
| Toto'a | Leilua | Leloaloa, AS | Football |
| Lamar | Neal | Virginia Beach, Va. | Football |
| Breanna | O'Leary | Amarillo, Texas | Softball |
| Jorden | Paige | Buffalo, N.Y. | Football |
| Diedra | Smith | Aurora, Colo. | Basketball |
| Joshua | Tate | Memphis, Tenn. | Football |
Following today's event, the D4D combine participants will attend the Hisense 4K TV 300 at Charlotte Motor Speedway on Saturday, May 28 (2:30 p.m. ET on FS1).
NASCAR D4D also offers a driver development program, operated by Rev Racing, and each year fields six drivers in the NASCAR K&N Pro Series East and NASCAR Whelen All-American Series. Successful graduates now competing in a national series include NASCAR Sprint Cup Series driver Kyle Larson and NASCAR XFINITY Series drivers Darrell Wallace Jr. and Daniel Suárez.
The NASCAR Sprint Cup Series' Coca-Cola 600 will be broadcast live from Charlotte Motor Speedway on Sunday, May 29 at 6 p.m. ET on FOX, PRN and SiriusXM NASCAR Radio. Additional live coverage can be found on
NASCAR.com
.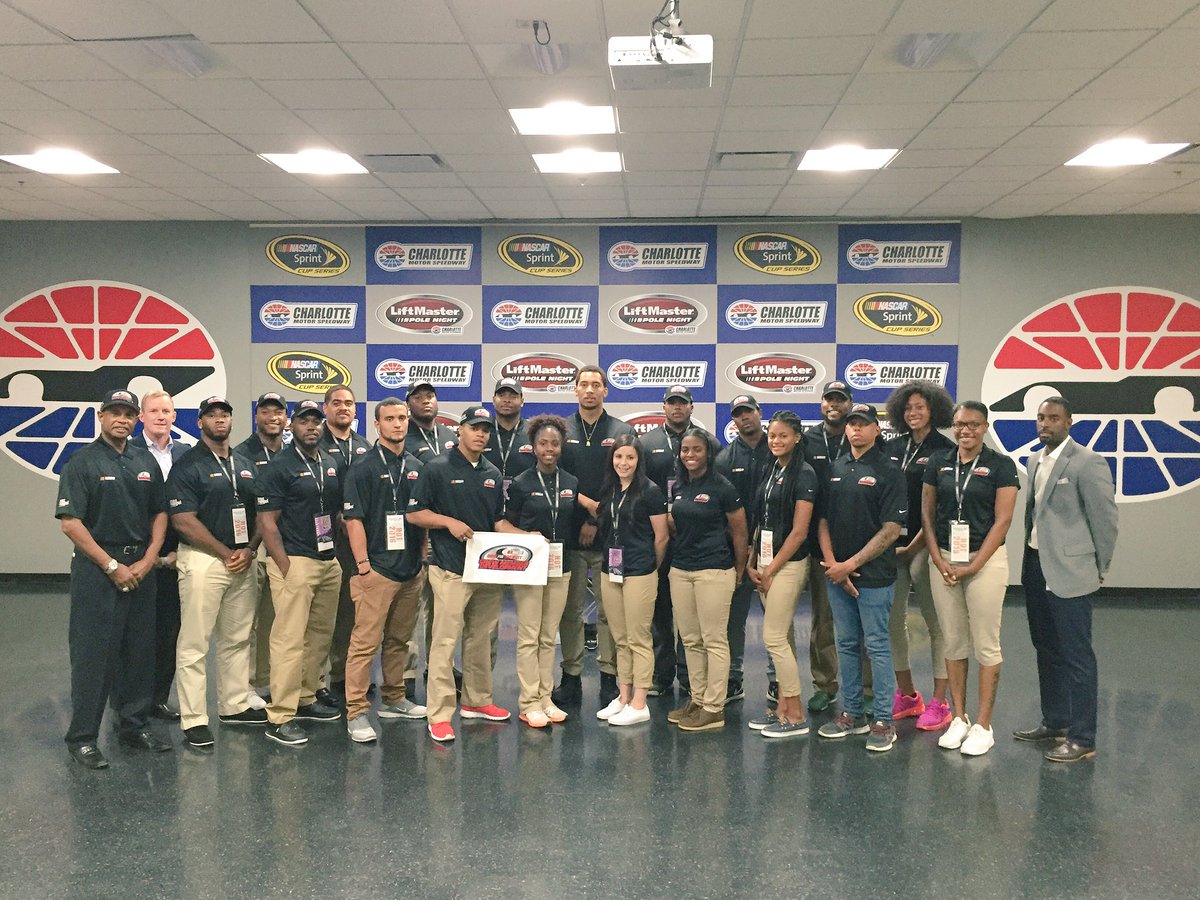 About Rev Racing
Headquartered in Concord, NC, Rev Racing, owned by Max Siegel operates the NASCAR Drive for Diversity Program, which is the industry's leading developmental program for ethnic minorities and women drivers and pit crew members. For more information about Rev Racing visit
http://revracing.net
or follow us on Twitter
@RevRacin
.
About NASCAR
The National Association for Stock Car Auto Racing, Inc. (NASCAR) is the sanctioning body for the No. 1 form of motorsports in the United States. NASCAR consists of three national series (the NASCAR Sprint Cup Series™, NASCAR XFINITY Series™, and NASCAR Camping World Truck Series™), four regional series, one local grassroots series and three international series. The International Motor Sports Association™ (IMSA®) governs the IMSA WeatherTech SportsCar Championship™, the premier U.S. sports car series. Based in Daytona Beach, Fla., with offices in eight cities across North America, NASCAR sanctions more than 1,200 races in more than 30 U.S. states, Canada, Mexico and Europe.
For more information visit
http://www.NASCAR.com
and http://www.IMSA.com, and follow NASCAR on Facebook, Twitter, Instagram, and Snapchat ('NASCAR').