Childress, Hendrick, Martin, Parks and Parsons Comprise Hall's Eighth Class
NASCAR announced today the inductees who will comprise the NASCAR Hall of Fame Class of 2017. The five-person group – the eighth since the inception of the NASCAR Hall of Fame in 2010 – consists of Richard Childress, Rick Hendrick, Mark Martin, Raymond Parks and Benny Parsons. In addition, NASCAR announced that Martinsville Speedway founder H. Clay Earles won the Landmark Award for Outstanding Contributions to NASCAR.
The NASCAR Hall of Fame Voting Panel met today in a closed session at the Charlotte Convention Center to debate and vote upon the 20 nominees for the induction class of 2017 and the five nominees for the Landmark Award.
NASCAR Chairman and CEO Brian France and NASCAR Vice Chairman Mike Helton announced the class and Landmark Award winner, respectively, this evening in the NASCAR Hall of Fame's "Great Hall."
The Class of 2017 was determined by votes cast by the Voting Panel, including representatives from NASCAR, the NASCAR Hall of Fame, track owners from major facilities and historic short tracks, media members, manufacturer representatives, retired competitors (drivers, owners, crew chiefs), recognized industry leaders, a nationwide fan vote conducted through NASCAR.com and, for the third year, the reigning NASCAR Sprint Cup Series champion (Kyle Busch). In all, 54 votes were cast, with four additional Voting Panel members recused from voting as potential nominees for induction (Ricky Rudd, Robert Yates, Waddell Wilson and Ken Squier). The accounting firm of EY presided over the tabulation of the votes.
Voting was as follows: Benny Parsons (85%), Rick Hendrick (62%), Mark Martin (57%), Raymond Parks (53%) and Richard Childress (43%).
The next top vote-getters were Robert Yates, Red Byron and Alan Kulwicki.
Results for the NASCAR.com Fan Vote, in alphabetical order, were Buddy Baker, Alan Kulwicki, Mark Martin, Benny Parsons and Larry Phillips.
The five inductees came from a group of 20 nominees that included, in addition to the five inductees chosen: Buddy Baker, Red Byron, Ray Evernham, Ray Fox, Ron Hornaday Jr., Harry Hyde, Alan Kulwicki, Hershel McGriff, Larry Phillips, Jack Roush, Ricky Rudd, Ken Squier, Mike Stefanik, Waddell Wilson and Robert Yates.
Nominees for the Landmark Award included Earles, Janet Guthrie, Raymond Parks, Ralph Seagraves and Ken Squier.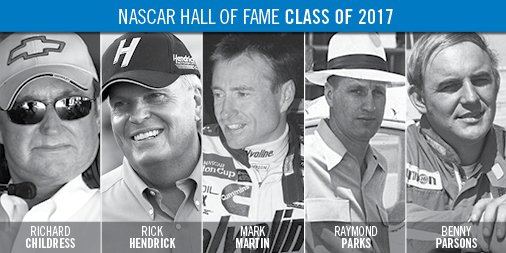 Class of 2017 Inductees:
Richard Childress
Long before he became one of the preeminent car owners in NASCAR history, Richard Childress was a race car driver with limited means. Childress, the consummate self-made racer, was respectable behind the wheel. Between 1969-81 he had six top-five finishes and 76 top 10s in 285 starts, finishing fifth in the NASCAR premier series standings in 1975. Having formed Richard Childress Racing in 1972, Childress retired from driving in 1981. He owned the cars that NASCAR Hall of Famer Dale Earnhardt drove to six championships and 67 wins between 1984-2000. In addition to Earnhardt's championships, Childress drivers have given him five others. Childress was the first NASCAR owner to win owner championships in all three of NASCAR's national series, and his 11 owner titles are second all time. Childress also owned the vehicles driven by NASCAR XFINITY Series driver champions Clint Bowyer (2008) and Austin Dillon (2013), as the 2011 NASCAR Camping World Truck Series driver champion Austin Dillon.
Rick Hendrick
The founder and owner of Hendrick Motorsports, Rick Hendrick's organization is recognized as one of NASCAR's most successful. Hendrick Motorsports owns an all-time record 11 NASCAR Sprint Cup Series car owner championship titles – six with Jimmie Johnson, four with Jeff Gordon and one with NASCAR Hall of Famer Terry Labonte. Hendrick also has 14 total NASCAR national series owner championships, most in NASCAR history. Gordon and Labonte combined to win four consecutive titles from 1995-98. In 2010, Johnson won a record-extending fifth consecutive championship. Hendrick also owned the car driven by 2003 NASCAR XFINITY Series driver champion Brian Vickers. Hendrick's 242 owner wins in the premier series rank second all-time.
Mark Martin
He is often described as the "greatest driver to never to win a championship," but Mark Martin's legendary career is so much more than that. He came incredibly close to that elusive title many times – finishing second in the championship standings five times. Over the course of his 31-year premier series career, Martin compiled 40 wins (17th all time) and 56 poles (seventh all time). Martin saw success at every level of NASCAR. He won 49 times in the NASCAR XFINITY Series, holding the series wins record for 14 years. He retired with 96 wins across NASCAR's three national series, seventh on the all-time list. In 1998, Martin was named one of NASCAR's 50 Greatest Drivers.
Raymond Parks
Raymond Parks is one of stock-car racing's earliest – and most successful – team owners. Funded by successful business and real estate ventures in Atlanta, Parks began his career as a stock-car owner in 1938 with drivers Lloyd Seay and Roy Hall. His pairing with another Atlantan, mechanic Red Vogt, produced equipment good enough to dominate the sport in the late 1940s and early 1950s. Red Byron won the first NASCAR title (modified, 1948) and first premier series title (1949) in a Parks-owned car. Parks' team produced two premier series wins, two poles, 11 top fives and 12 top 10s in 18 events.
Benny Parsons
Benny Parsons won the 1973 NASCAR premier series championship and could be called an everyman champion: winning enough to be called one of the sport's stars but nearly always finishing well when he wasn't able to reach Victory Lane. He won 21 times in 526 career starts but finished among the top 10 283 times – a 54 percent ratio. One of Parsons' biggest victories came in the 1975 Daytona 500. He was named one of NASCAR's 50 Greatest Drivers in 1998. Parsons also was known as a voice of the sport making a seamless transition to television following his NASCAR career. He was a commentator for NBC and TNT until his passing in 2007, at the age of 65.
Landmark Award for Outstanding Contributions to NASCAR:
H. Clay Earles
One of the original pioneers of stock car auto racing, H. Clay Earles played an integral role in the early years of NASCAR's development. Earles built and opened Martinsville Speedway in 1947, and the short track remains the only facility to host NASCAR Sprint Cup Series races every year since the series' inception in 1949. The speedway held its first race on Sept. 7, 1947 – three months before the creation of NASCAR. That initial race drew more than 6,000 fans to the track, which had just 750 seats ready. In 1964, Earles decided it was time for a "different" type of trophy for his race winners. He gave winners grandfather clocks, a tradition that continues today.
— FOX SPORTS: NASCAR (@NASCARONFOX) May 25, 2016