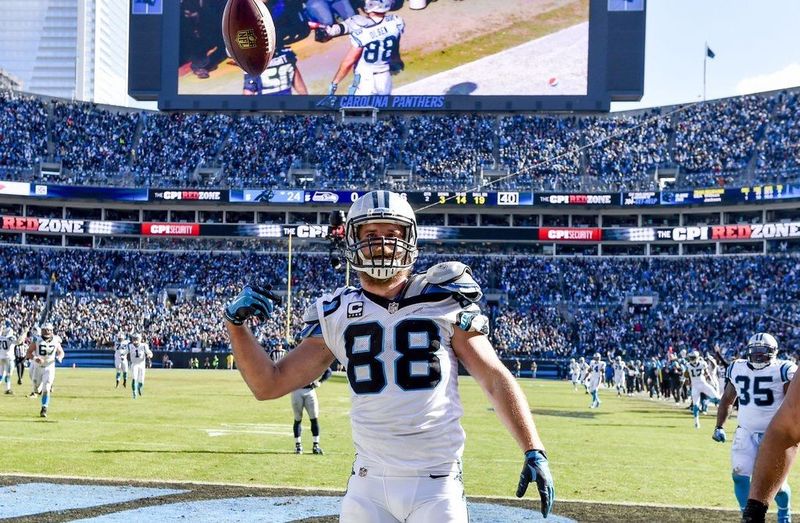 Greg Olsen (88) will serve as the honorary pace car driver for the May 21
NASCAR Sprint All-Star Race (Photo Courtesy of Greg Olsen)
While many in the professional football world are focused on the NFL Draft, Carolina Panthers Pro Bowl tight end Greg Olsen will lead a different kind of draft when he drives the Toyota Camry pace car prior to the unforgettable, action-packed May 21 NASCAR Sprint All-Star Race during the 10 Days of NASCAR Thunder at Charlotte Motor Speedway.
"Since arriving in Charlotte I have developed a great admiration for NASCAR and their athletes," Olsen said. "Their concept of teamwork and commitment to excellence is second to none and I have a great deal of respect for the drivers and their teams. I am honored to be included in such an event and am looking forward to driving the pace car to kick off the 2016 NASCAR Sprint All-Star Race."
MORE INFO:
Olsen, one of the NFL's premier pass catchers, is no stranger to NASCAR. For the past two years, the Charlotte, North Carolina, resident has participated in fundraising efforts with NASCAR Sprint Cup Series superstar Dale Earnhardt Jr. to support The Dale Jr. Foundation and The Greg Olsen Foundation's HEARTest Yard campaign.
Olsen has also attended race events at Charlotte Motor Speedway in the past, but never in a dignitary role.
Last season, the veteran tight end earned his second Pro Bowl nod after recording a career-high 1,104 receiving yards and seven touchdowns. Olsen's efforts helped the Panthers finish with a franchise-best 15-1 record in a season that also saw Carolina advance to Super Bowl 50.Olsen joins linebacker Luke Kuechly as the second Panthers player in the last three years to pace the field prior to the NASCAR Sprint All-Star Race, a battle among NASCAR's biggest stars for a $1 million prize and the sport's ultimate bragging rights.